Homework: Harmful for Students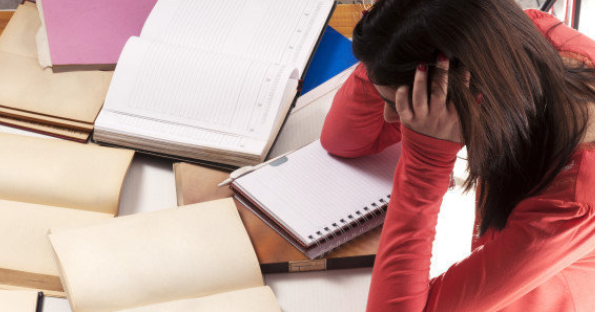 Olivia Gonzales, Writer
February 7, 2019
Homework, the one thing we all hate. It is stressful and detrimental, it keeps us away from our social lives, and it can lead to anxiety, depression, and isolation. It is the burden of children to get it done. The fear of failing and getting shamed by their parents is constantly weighing upon them. Too much pure pressure can lead to children eventually breaking. It is not a good thing to keep homework around.
         All students experience the stress of homework, but sometimes too much is to much. The recommended time to spend on homework in middle school is 45 minutes to an hour. But a survey done in March of 2018 showed that we were doing up to three hours worth of homework (procon.org 1).  Three hours that could be spent socializing or completing more rewarding activities, like sports. Speaking of sports, they often take up the largest use of students' time, and with some people it takes up the majority of their day, leaving no time for homework. This means that it would affect their grade and overall anxiety during certain classes. This is detrimental for students!
        Homework is also very bad for mental health. It can lead to anxiety, depression, and isolation. Students remove themselves from your social life to accomplish work that stresses them out. A study done in California concluded that "…59%[of students] thought they had too much homework. 43% of respondents said that homework was their greatest source of stress, and 82% agreed that they were "often or always stressed by schoolwork." The evidence speaks for itself: homework negatively affects students' mental well-being.
         Finally, the burden of homework is a large one. Children are fearful about failing and of not meeting their parents' expectations. It's crucial for kids to have free time, to have the time to relax and to take a break, and to really think about their mental and physical health. For example, if a student pulls an all-nighter to do homework, she won't get any sleep and be more likely to fall asleep in class. It's a vicious cycle that harms students.
         All in all, homework can promote some good habits, like parents connecting with their children and them being able to see what their kids are learning. However, if you look at the evidence, homework is starting to look like the bad guy. What do you think?
Bibliography
"Is Homework Beneficial? – Top 3 Pros and Cons." ProConorg Headlines, www.procon.org/headline.php?headlineID=005411.