Holiday Recipes
Jordan Ford, Writer
December 6, 2018
Do you like holiday treats? Well, here are some you should definitely try!
Apple Pie
Ingredients:
1/2 cup sugar

1/2 cup packed brown sugar

3 tablespoons all-purpose flour

1 teaspoon ground cinnamon

1/4 teaspoon ground ginger

1/4 teaspoon ground nutmeg

6 to 7 cups thinly sliced peeled tart apples

1 tablespoon lemon juice

Pastry for double-crust pie (9 inches)

1 tablespoon butter

1 large egg white

Additional sugar
Promising Review: ¨I loved the apple pie. It was delicious. I could taste the cinnamon, It was great!" -Joe F.
Directions:
In a small bowl, combine the sugars, flour and spices; set aside. In a large bowl, toss apples with lemon juice. Add sugar mixture; toss to coat.

Line a 9-in. pie plate with bottom crust; trim even with edge. Fill with apple mixture; dot with butter. Roll remaining crust to fit top of pie; place over filling. Trim, seal and flute edges. Cut slits in crust.

Beat egg white until foamy; brush over crust. Sprinkle with sugar. Cover edges loosely with foil.

Bake at 375° for 25 minutes. Remove foil and bake until crust is golden brown and filling is bubbly, 20-25 minutes longer. Cool on a wire rack.
Warm Spice Milk
Ingredients:
1

cup nonfat milk

1

tablespoon honey

1/2

teaspoon vanilla extract

1

Pinch of ground cloves

1/8

teaspoon cinnamon

1/8

teaspoon ginger

1/8

teaspoon nutmeg
Directions: In a small saucepan over low heat, combine and heat all ingredients. Stir over low heat, 10 minutes. Remove from heat and cool 5 minutes. Pour through a fine strainer into a mug.
Promising Review: ¨The milk was really good. I loved how it was sweet. It tasted like holiday spirit.¨ -Taylor F.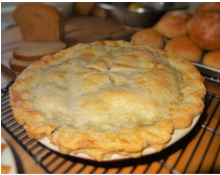 Works Cited
Clarke, Stephanie, and R.D. "Spiced Milk With Honey." SELF, SELF, www.self.com/recipe/spiced-milk-with-honey.
Greene, Maggie. "Apple Pie." Taste of Home, Taste of Home, 1 Jan. 2018, www.tasteofhome.com/recipes/apple-pie/.
Stephanie. "Easy Sugar Cookies Recipe." Allrecipes, 21 Nov. 2006, www.allrecipes.com/recipe/9870/easy-sugar-cookies/.