Books To Read Over Winter Break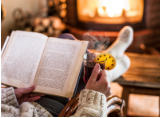 Kate Ilias, Writer
December 6, 2018
When the snow outside is piled on the ground and the wind is rattling your windows, all you want to do is huddle under a blanket with a cup of hot chocolate or tea with a good book. Whether you prefer to read about sunny summer days or windy winter nights, here are four books that would be an excellent choice to disappear in over your time off this winter break.
The first book I would recommend you reading is Every Soul a Star by Wendy Mass. This book revolves around three main characters named Ally, Bree, and Jack who could not possibly be more different. Although they are complete strangers and have no similar interest, they all find themselves at one miraculous event in the middle of nowhere. This book shows the power of friendship and that everyone can find their place in the universe.
The second book I recommend you read is The Wolves of Willoughby Chase by Joan Aiken. If you're in the mood for a freezing winter story then this book is for you. In this masterpiece, two young cousins Bonnie and Sylvia encounter a grim governess that was staying with them while Bonnie's parents went away on a trip. Unfortunately, Bonnie's aunt was not who she seemed and made up a tale where Bonnie's parents were dead. Throughout their adventure, Bonnie and Sylvia grow closer together and learn what family and home really mean.
The third book I recommend is A Mango-Shaped Space, also by Wendy Mass. In this book, an eighth-grade girl named Mia was having another hot and active summer with her best friend and family. Although, underneath her confident smile Mia holds a secret. For her sounds, numbers, and letters have color. After an experience in third grade, Mia feels like no one would believe her if she told anyone about this. Because she feels like a freak she keeps this secret inside of her. Wendy Mass writes an amazing story about Mia and her journey.
The fourth and final book I'm recommending to you is Maybe a Fox by Kathi Appelt and Alison McGhee. In this intoxicating winter filled tale, a young girl names Jules grows up with her father and older sister Sylvie. Jules and Sylvie were ready to go to school one morning when Sylvie suddenly is urged to go to the river behind their house to make a wish on a wishing rock. Jules finds herself alone when the school bus pulls up on her street. Jules is filled with burning wishes. But will they come true?
All in all, winter break is a time for relaxation and spending time with family. Even though it's time off from school, it's important to keep your mind active and learning. After you watch some holiday movies and binge watch a few TV shows, check out one of these reads!